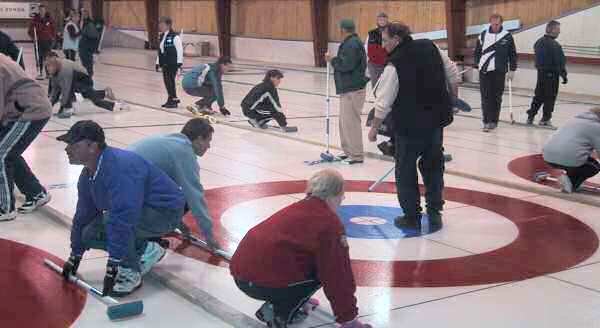 The Cornwall Curling Club is busy getting ready for the upcoming season. Icemaking is well underway, and everything is on schedule for daytime curling to start the morning of Oct. 15. Returning membership registration goes Oct. 9th, from 6:30-8:30 pm. The annual free "Try Curling" adult "learn to curl" sessions, open house, and new members registration run Oct. 15, 16, and 17 from 6:30 to 8:30 pm, with evening curling getting underway on the 20th.  Team-entry and single-entry member curling runs Sunday through Thursday evenings, along with a Commercial League on Monday evening.
Click for information on the Try Curling sessions
Junior registration nights are the same as adult curling nights, with the program getting underway Oct. 27. The program includes beginner instruction on Sundays, from 3:30 to 5:30 pm and afterschool curling on weekdays.
Click for info on the Junior program
Daytime curling is open to curlers of all ages, not just Seniors, and welcomes "drop-ins" as well as members. Single entry curling happens from 10-12 am weekdays, with teams made up as players arrive. Stick and team curling takes place in the early afternoon.
Click for info on Daytime curling
Improvements to the Club for this year include additional soundproofing in the ceiling to dampen the noise from the floor above, and improvements to the ice temperature alarm system.
See you on the ice!