The annual Kenmac Energy Mixed Funspiel, with a full roster of 24 teams, came to a finish Saturday evening with the rink skipped by Paul Durant finishing on top.
Teams played one six end game on Friday evening and two more on Saturday. Off-ice, on Friday night the curlers were treated to mussels supplied by MR Seafoods Inc, plus other snack food. Then, back by great demand, TIP-ER-BACK got things hopping for the curlers to hit the dance floor and dance the night away!
Saturday morning started with freshly-brewed coffee, and muffins supplied by Country Style as well as a few snacks provided by our own members. A selection of pizzas was delivered at lunch time from Pizza Delight in Cornwall. During the day, a couple of word games were played, 50/50 tickets were sold, with visitor Kristen Monkley walking away with $175.00 At the end of the spiel, curlers were treated to a piping hot turkey dinner with all the trimmings and dessert, catered by Alan Carmichael.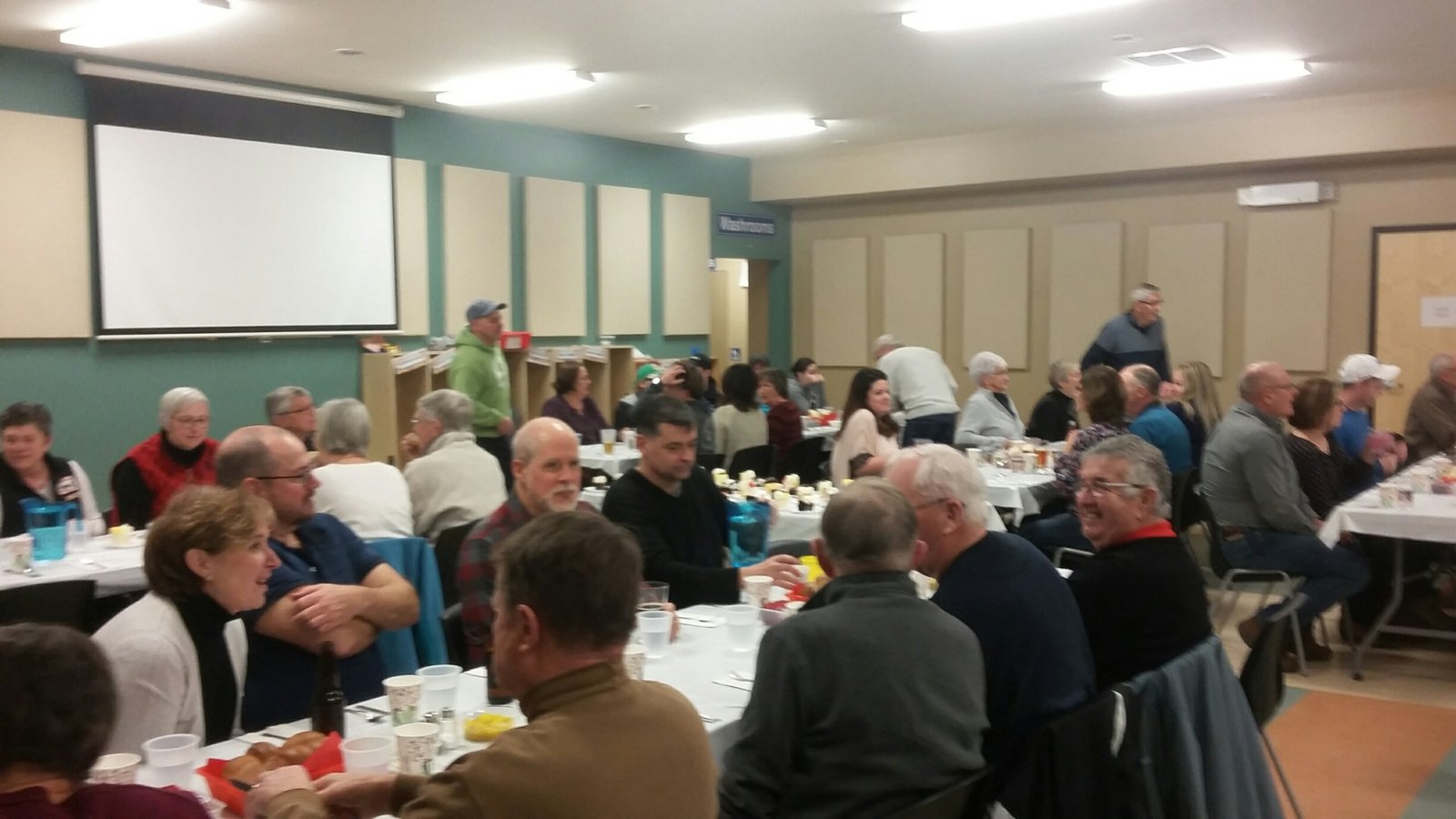 Zach Bell, and Darcy Murnaghan along with his son Mac, from Kenmac Energy presented eight teams with prizes of Mel's Gift Cards prizes. The winning Durant team, which also included mate Marg Stewart, 2nd Eugene Murphy and lead Joanne Durant, were presented the coveted Kenmac Energy plaque, as well as gift cards.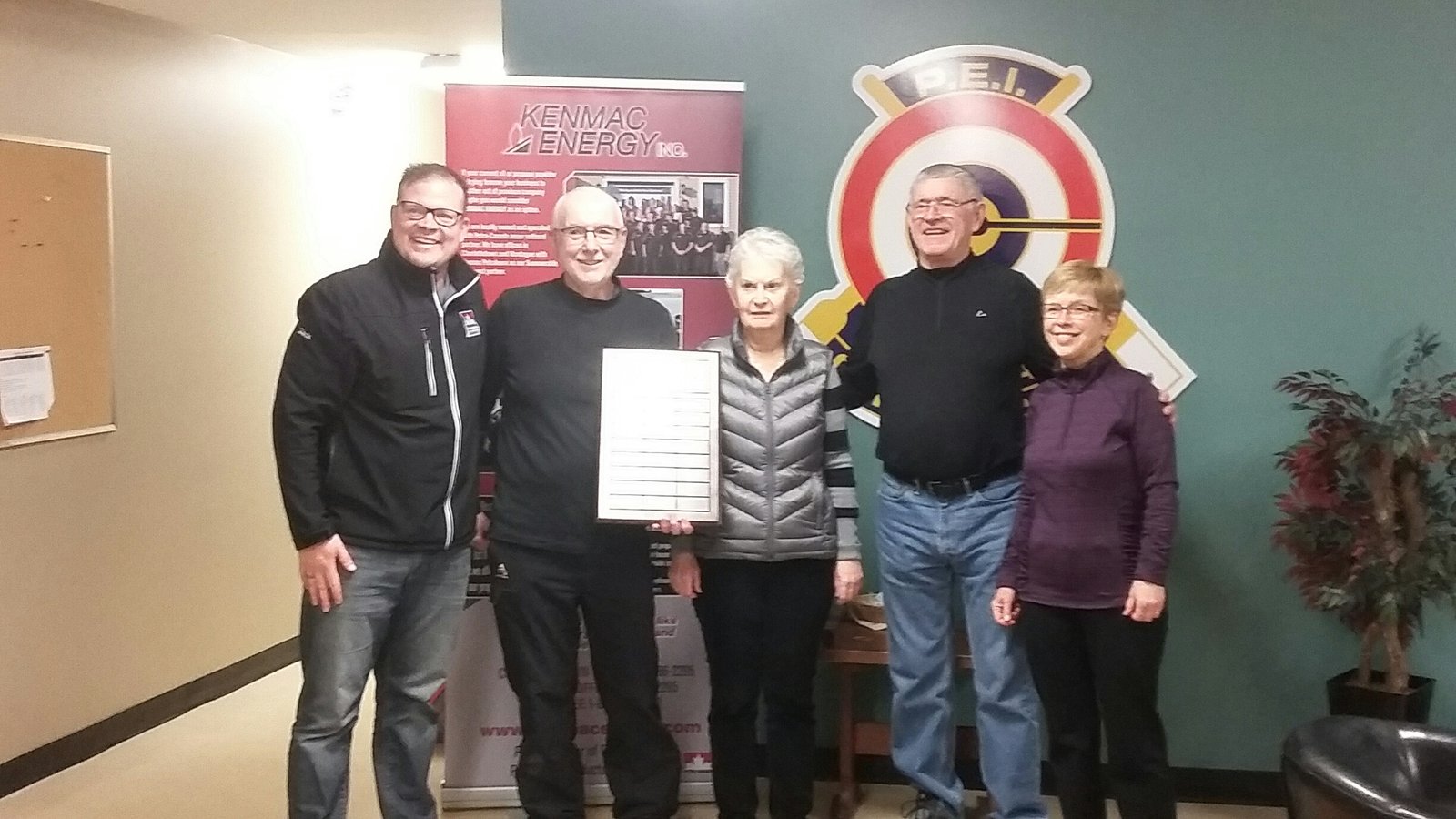 Photo (L-R): Zack Bell, Paul Durant, Marg Stewart, Eugene Murphy, Joanne Durant
The seven other winning teams (listed in order of most to least points) were skipped by Bob Fowler, Danny Kneabone, Bryan Sutherland, Ray Biagé, Kimball Blanchard, Kim Nicholson and Lorianne Davies.
Photo: Darcy and Mac Murnaghan, with Team Fowler
Photo: Darcy and Mac (look down!) Murnaghan with Team Kneabone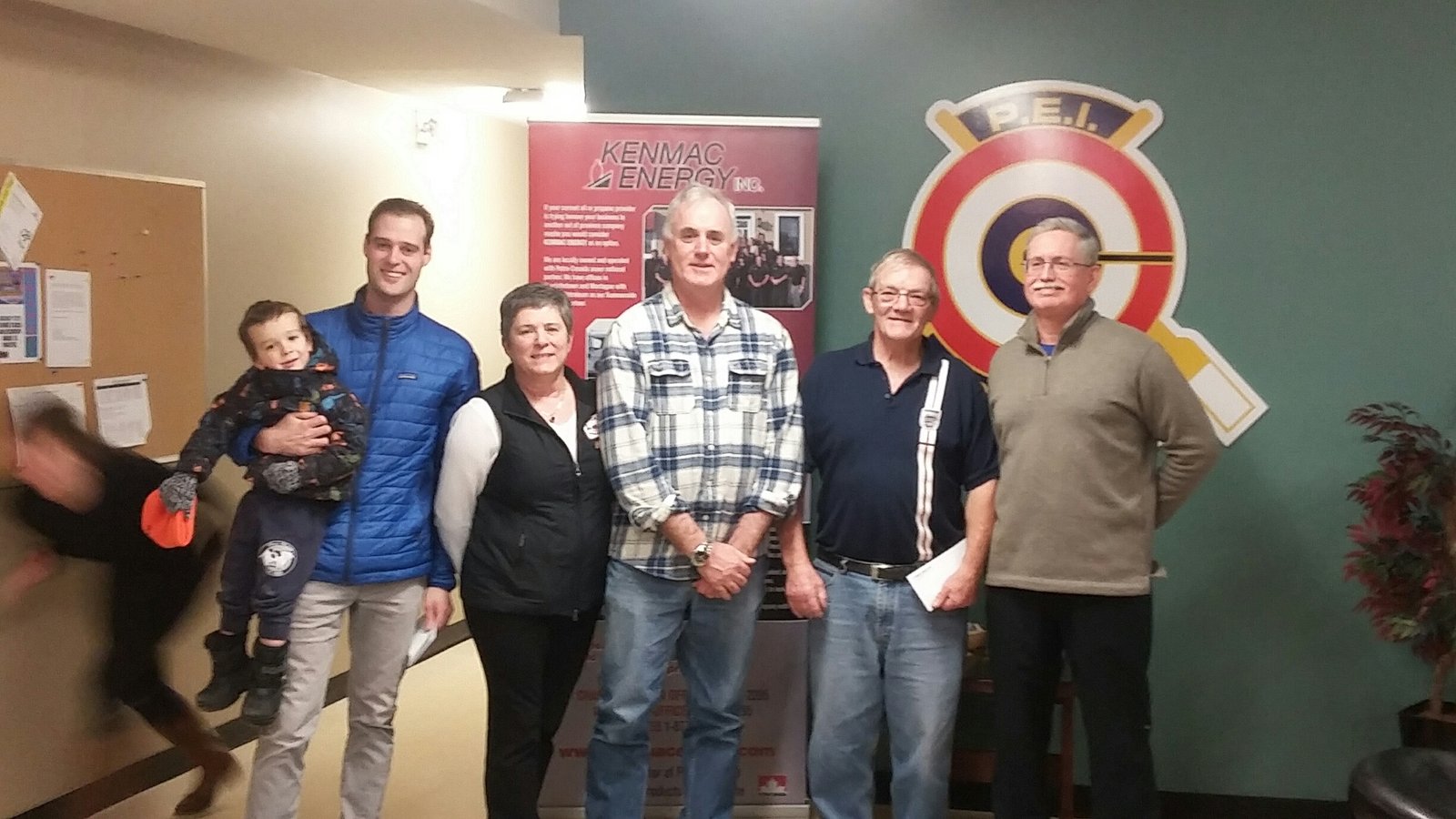 Photo: Mac and Darcy Murnaghan with Team Sutherland
Photo: Zack Bell, with Barb and Ray, from Team Biagé
Photo: Zack Bell (right), with Team Blanchard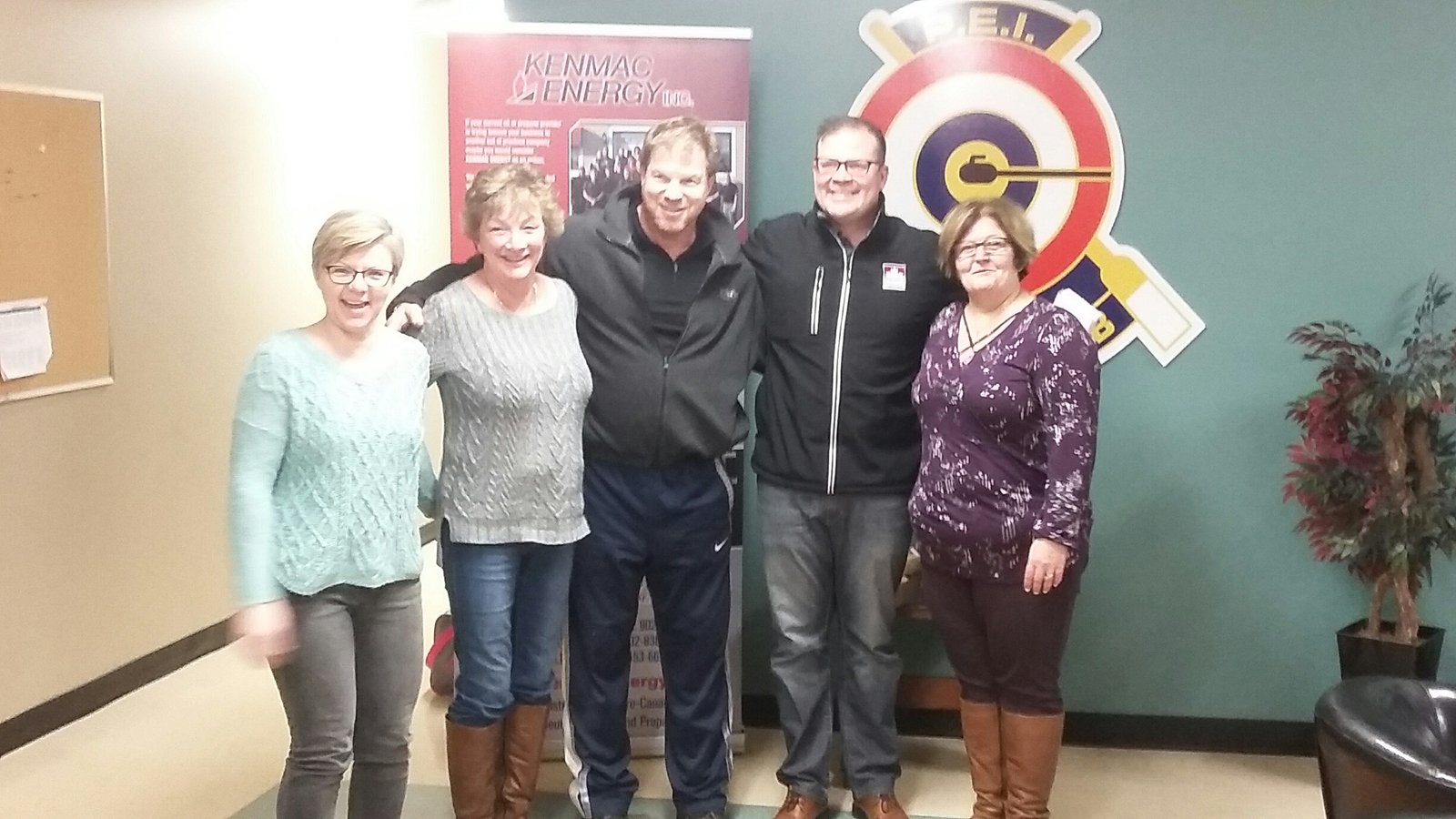 Photo: Zack Bell (2nd from right), with Team Nicholson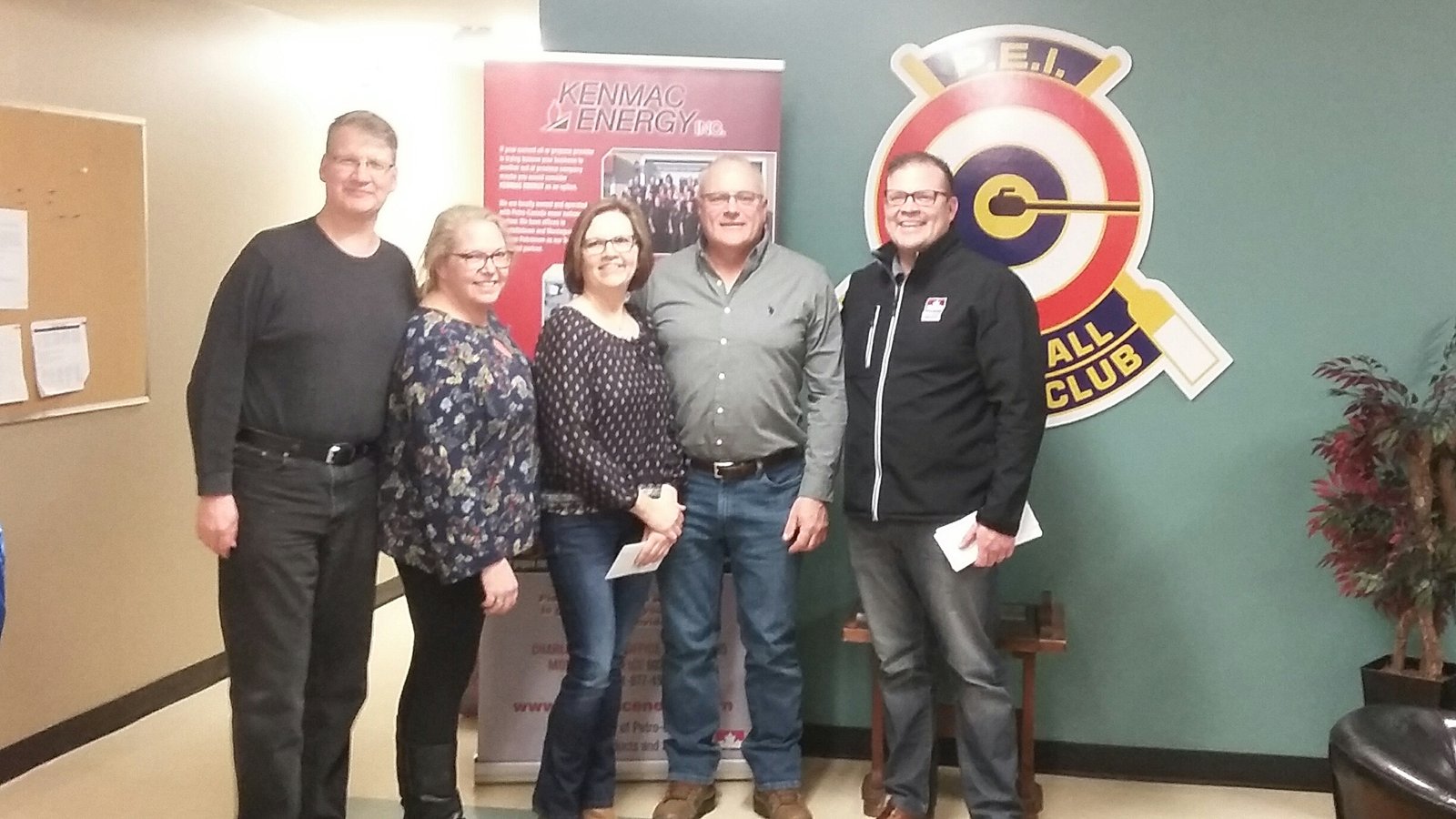 Photo: Zack Bell (right) with Team Davies
We are very lucky to have Kenmac Energy as our sponsor for this annual event. Their
generosity is very much appreciated by all who participate! A special thank-you goes out
to Gordon Matthews who is retired from the Kenmac Family but generously
agreed to coordinate. Thanks Gordon! Remember Kenmac for all your home energy needs- oil, propane and furnace service too. Thanks again to Kenmac for another successful spiel!
Big thanks to many of our members for the help with lots of tasks such as making up the draws/scoresheets, taking registration, announcing, scorekeeping, selling tickets, providing games, providing/prepping food, kitchen duty, setting/cleaning up etc. Also thanks to Bev our club manager, Lance the "Ice Man" along with Jeff and Danny, Ray our custodian, our bartenders for the weekend Kelly, Al and Bev. All these things help make the Kenmac Energy Mixed Funspiel a very successful event!
Thanks to everyone!
Darlene Howlett and Laurie Kelly, Bonspiels and Socials Committee