Cornwall Curling Club Closing Spiel
April 5th – Opening draw
6:30 PM
Ice 2
B. Fowler, K. Nicholson, M. Proude, D. MacKinnon VS B. Hope, P. Mohan, L. Turnbull, K. Gallant
Ice 3
V. Chowan, D. Weeks, E. Blanchard, P. McCardle VS T. Dunn, C. Nicholson, G. Younker, B. Arsenault
Ice 4
P. Neima, F. Martin, P. Ling, C. Handren vs L. Davies, R. Doiron, M. Perry, D.MacEwen
7:30 PM
Ice 1
L. Callbeck, S. Hope, D. Godfrey, G. Turner VS K. Blanchard, T. Hayes, H. MacPhail, M. England
Ice 2
K. Currie, A. Acorn, H. LaPalme, K. Affleck VS B. Duncan- Biagé, B. Murphy, H. Wicki, A.Deshpande
Ice 3
W.Nicholson, B. Trainor, TBA, M. Matthews VS V. Acorn, K. Moerike, G. Crockett, J. Anderson
Ice 4
G. Peters, M. Boudreau, S. Murphy, J. Durant VS H. Kamphius, B.MacWilliams, M. Craswell, L. Matthews
8:30 PM
Ice 1
R. Biagé, L. Arsenault, F. Weiler, TBA VS P. Durant, D.Girard, D. Nantes, TBA
Ice 2
D.Rhodenhizer, L. Gotell, H. Smith, E. Richard VS P. Arsenault, M. Kirkham, J. Kamphius, TBA
Ice 3
B. Craswell, D. Sigsworth, J. Callaghan, P. Field VS S. Ebbet, C. Currie, P. Degrace, TBA
Ice 4
A. Davies, Marg Stewart, N. Richards, C. Crockett VS G. Groves, S. DeGrace, C. Peters, B. Field
Extra players, spares, needed!
Here are the colours and teams for this weekend's closing spiel between the The Island Reds and the Country Blues. The draw will follow by Thursday afternoon.
I count five spots open, so if you still want to participate, get in touch with the Club, or with Ray Biagé or Barb Duncan-Biagé as soon as possible!
Blue Teams 2013
Ray Biagé, Lisa Arsenault, Frank Weiler, TBA
Gord Peters, Mathieu Boudreau, Shelley Murphy, Joanne Durant
Bob Fowler, Kim Nicholson, Marlene Proude, Dick MacKinnon
Barry Craswell, Debby Sigsworth, Joe Callaghan, Paul Field
Vern Chowan, Donald Weeks, Eileen Blanchard, Pat McCardle
William Nicholson, Brian Trainor, John Kamphuis, Marjorie Matthews
Paul Neima, Frank Martin, Paula Ling, TBA
Debbie Rhodenhizer, Leonard Gotell, Helen Smith, Edmond Richard
Lester Callbeck, Sandy Hope, Donnie Godfrey, Gloria Turner
Angus Davies, Marg Stewart, Nucker Richards, Carolyn Crockett
Karen Currie, Alan Acorn, Hélène LaPalme, Krista Affleck
RED Teams 2013
Barb Duncan-Biagé, Bob Murphy, Hans Wicki, Ankur Deshpande
Paul Durant, Danielle Girard, Des Nantes, TBA
Gordie Matthews, Valerie Acorn, Grant Crockett, Jean Anderson
Bill Hope, Perry Mohan, Lynda Turnbull, Kathie Gallant
Hank Kamphius, Bob MacWilliams, Myrna Craswell, Linda Matthews
Shelley Ebbett, Carl Currie, Peter Degrace, TBA
Greg Groves, Stephen DeGrace, Carlene Peters, Bernie Field
Paul Arsenault, Morgan Kirkham, Alan Craswell, TBA
Lorianne Davies, Tracy MacDonald, Mark Perry, Derek MacEwen
Kimball Blanchard, Trent Hayes, Howard MacPhail, Mabel England
Tom Dunn, Cindy Nicholson, George Younker, Barb Arsenault
Dance the night away with Davis Ward's DWX Productions D.J. Sound and Lighting Services at our Countryview Golf/PEI Brewing Company Closing Spiel! The dance takes place Friday April 5th, starting at  9:30PM, and is open to all – whether or not you're in the spiel – bring your friends, too – no cover charge!
Enjoy an afternoon of musical entertainment Celtic style!
Fiddler Ward MacDonald, accompanied by Thomas Kirkham, will be at the Club from 2-4 pm Saturday for your listening pleasure!
The signup sheet went up Monday night, and it's filling up fast, with over 40 names already, so hurry hard and get your name on it, before you miss the curling event of the year!
It's Back – the closing spiel and the battle of the
Reds vs Blues – April 5 & 6, 2013.
Sign-up sheets are now up at the Club!
Countryview Golf Club and the PEI Brewing Company are pleased to announce the Cornwall Curling Club Annual Closing Spiel April 5th-6th, 2013.
The Island Reds will be "brewing up trouble"
on the ice while the Country Blues
will be "taking a swing" at their
worthy opponents !
Here's more details, in poem form:
There'll be curling and eating, and dancing all night
Then we'll start all over as soon as it's bright
We'll be selling some tickets on a membership for next year
And drawing for door prizes (you win if you're here)
Someone goes home with a great big TV
We talk, and we laugh, (so hard you might pee),
Its good-bye till next  year, to your curling friends
Your old and new buddies, made during 8 ends,
It's all out war between the Red and the Blue
But only one color can win, and we hope it's you
The pride of the triumph, the sorrow of loss
Will be felt for a while, but don't give a toss
Just come back next year, and try over again
It's the Cornwall Curling Club, and we're all just friends!!
---
Leafs beat Habs to win 2012 Countryview Golf Closing Spiel
More than the ice was frozen over at the Cornwall Curling Club on Saturday, as the Leafs soundly defeated the Canadiens to win the coveted Stanley Cup, only the second time in eight months that the Cup was in Cornwall (click for previous Cup appearance), and the first time that the playoffs between these two Original Six teams were held at our Club, thanks to the assistance of our great sponsors Countryview Golf Course. Those of us who won the Friday night trivia know, of course, that the last time the Leafs beat the Habs for the Cup was 1967, so this was truly an historic occasion, as evidenced by the great joy shown by the winning team in the official photo: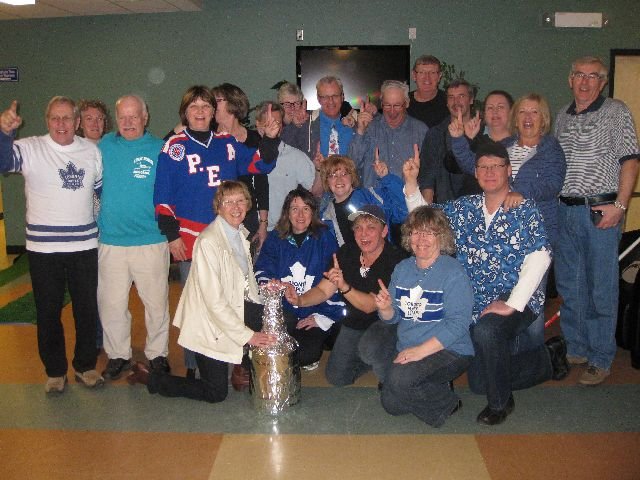 ;
As well, some of the players took the opportunity to hoist the cup in the air themselves: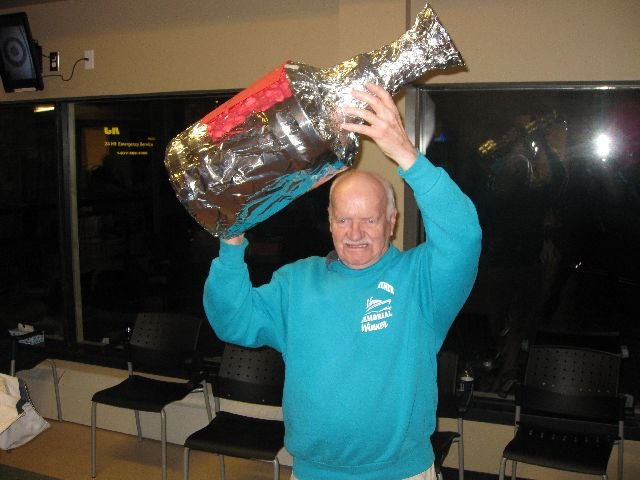 The surprising victory by the Leafs became obvious by the third round of the playoffs, on Saturday morning, when the Leafs came from behind to tie two games, taking three in the last period to tie one, and a big five in the final frame to tie another. The carnage against the Habs continued for the rest of the day, with the Leafs taking 300 points, and the Habs only 189 over the two day playoff series.
As well as the on-ice activities, both teams participated in off-ice hockey/golf themed sports, including hitting a puck into a golf hole with a putter, putting a golf ball into the hole using a hockey stick, and using a mini-stick to hit a target with a poker chip. Both teams appeared to be very experienced in the sport of golf, and the off-ice activities resulted in a dead heat.
The awards night was held following the final games, with Bob Fowler filling in for Ron MacLean, who apparently had something else to do. All the Leafs got fabulous prizes, and sponsor Countryview even had a prize for each of the Habs!
Additional awards included a one-night "season pass" to the Cornwall Curling Club, won by former Hab fan Ray Biagé, who was seen wearing Leafs colours all weekend, and a big Panasonic LCD TV, won by Julie Mitchell (bartender Carol Sweetapple's daughter, who lives in Halifax). There were also prizes throughout the day during the reverse draw for the pass, and door prizes after the main awards were given out.
The lavish awards dinner was catered by student chefs from the Culinary Institute of Canada, and included barbecued pork, baked potatoes, salad, coleslaw, rolls, and Two Bite Brownies for dessert.
Thanks to the event organizers, including Rob and his new bride, Sherri, Karen, Carl, and Kris from our great sponsors Countryview Golf, trivia master Angus, MC Bob, anthem singer Debby, off-ice games coordinators including Jamie, the kitchen and cleanup crews, the Culinary cooks, the sixteen teams who took part, Manager Bev, bartenders Carol and Al, icemaker Lance, ice crew including Jeff, and everyone else who helped make our Leafs vs Habs closing bonspiel at great success!
The Cornwall Curling Club season wraps up with the Juniors pizza and skating party on Sunday, our Annual General Meeting and Awards night, May 11 at the Club beginning at 6 pm, and our annual golf tourney, June 9 at Countryview (now open for the season – book your tee-times at CountryviewGolf.com). Contact Carl or Karen at Countryview to sign up for the golf tourney. And curling is not over yet – don't forget, the world's best curlers are in Summerside starting Tuesday night for the Players' Championship – don't miss it!
Only 8 spots left on the roster to help the Leafs or the Habs win the Stanley Cup! Draft deadline is Wed. noon
Countryview Closing Spiel
Cornwall Curling Club
Friday, April 13th, 2012
6:30 Draw Ice #1
Team#1 Red Tom Dunn, Larry Cudmore, Maureen Cudmore, Jean Anderson VS
Team#2 Blue Ray Biagé, Leita Chisholm, Roy Coffin, Elaine Hughes
Ice#2
Team#3 Red Barb Duncan-Biagé, Lew Black, Carlene Peters, Bernie Dykerman VS
Team#4 Blue Vern Chowan, Donald Weeks, Paula Ling, Frank Martin
Ice#3
Team#5 Red Gordon Matthews, Danielle Girard, Hans Wicki, Sherri Boutilier VS
Team#6 Blue Gord Peters, Rob Young, Ronalda Ballie, Vicki Cotton
Ice#4
Team#7 Red Hank Kamphuis, Mike Lafontaine, Rebecca Rolfe, Linda Matthews VS
Team#8 Blue Karen Currie, Jamie Ballem, Danny Young, Marjorie Matthews
8:30 Draw Ice#1
Team#9 Red Greg Groves, Charlie Campbell, Lynda Turnbull, Bernie Field VS
Team#10 Blue Angus Davies, Debby  Sigsworth, Bob MacWilliams, Marg Stewart
Ice#2
Team#11 Red Lorianne Davies, Bill Sigsworth, Val Tayler, Pauline Sewester VS
Team#12 Blue Paul Neima, Leonard Gotell, Mabel England, Helen Smith
Ice#3
Team#13 Red Danny Kneabone, Tracy MacDonald, Gloria Clarke, Derek MacEwen VS
Team# 14 Blue Debbie Rhodenizer, Mark Perry, Darlene Kneabone, Tony Turnbull
Ice#4
Team#15 Red Julie Scales, Carl Currie, Frank Weiler, Dave Hunt VS
Team#16 Blue Bob Fowler, Bev Richards, Shelly Murphy
Blue shows their mussels & recovers title at dynamite 2011 Countryview Closing
It was the DEMOLITION DERBY – and curlers came out in appropriate attire. There were hard hats, tool belts, and even a little dynamite on the ice. Facing off for the last time in our old club, Blue conquered the Red to win back the title! The Blue teams led going into Saturday's contest by a margin of only 4 points, and after the second round, Red was ahead by 8, but Blue rallied in the end, and took control of the final round, and the WIN.
Off the ice, Friday night there was music by DJs Matt Hammond & Kyle Gallagher www.charlottetownrefinery.ca .mailto:recording@charlottetownrefinery.ca
A big Thank You goes out to Confederation Cove www.confederationcove.com, and two local mussel farmers (Karen and Paul MacInnis from Hampshire) who donated the mussels for the evening. The mussels were delicious, so be sure to check out their products for your next get-together.
Saturday activities included some off-ice games, burgers on the barbie with salads, and prizes all afternoon for the reverse draw for a 1-night membership for next year. Following the last round of curling, a fantastic meal consisting of roast pork loin, home made baked beans, mashed potatoes, salds, rolls, and dessert was enjoyed by everyone.
The draw for the TV was made during supper, with Clubmate Cindy Nicholson taking home the TV, second prize (Balance Plus broom) went to Debby Sigsworth. The reverse draw also came to a close, with Sherri Boutilier as the winner of a one-night membership for next year.
Many thanks once again to our wonderful sponsors – CountryView Golf Club www.countryviewgolf.com who have partnered with the curling club for over 10 years in the closing spiel, as well as the annual golf tournament which will be held at their beautiful course on June 18th. The Curries were well represented this year, with a couple of them taking home the hardware! Thanks to everyone who helped out in any way to make the weekend a success. It was a great ending to a very good year at the club, and we look forward to coming back in the fall to a newly renovated space, which can only make our curling experience better.
-Submitted by Barb Duncan-Biagé
Cornwall Curling Club Countryview Closing Construction Crews compete
It was the red construction crew against their blue competition as the Cornwall Curling Club's Closing bonspiel, sponsored by Countryview Golf Club, brought the 2010-2011 season to a close over the weekend. We'll have a full report in the next day or so, but in the meantime, Mike Lafontaine has sent along some great pictures! I left them full size, for those with big monitors, so they may take a few seconds to load.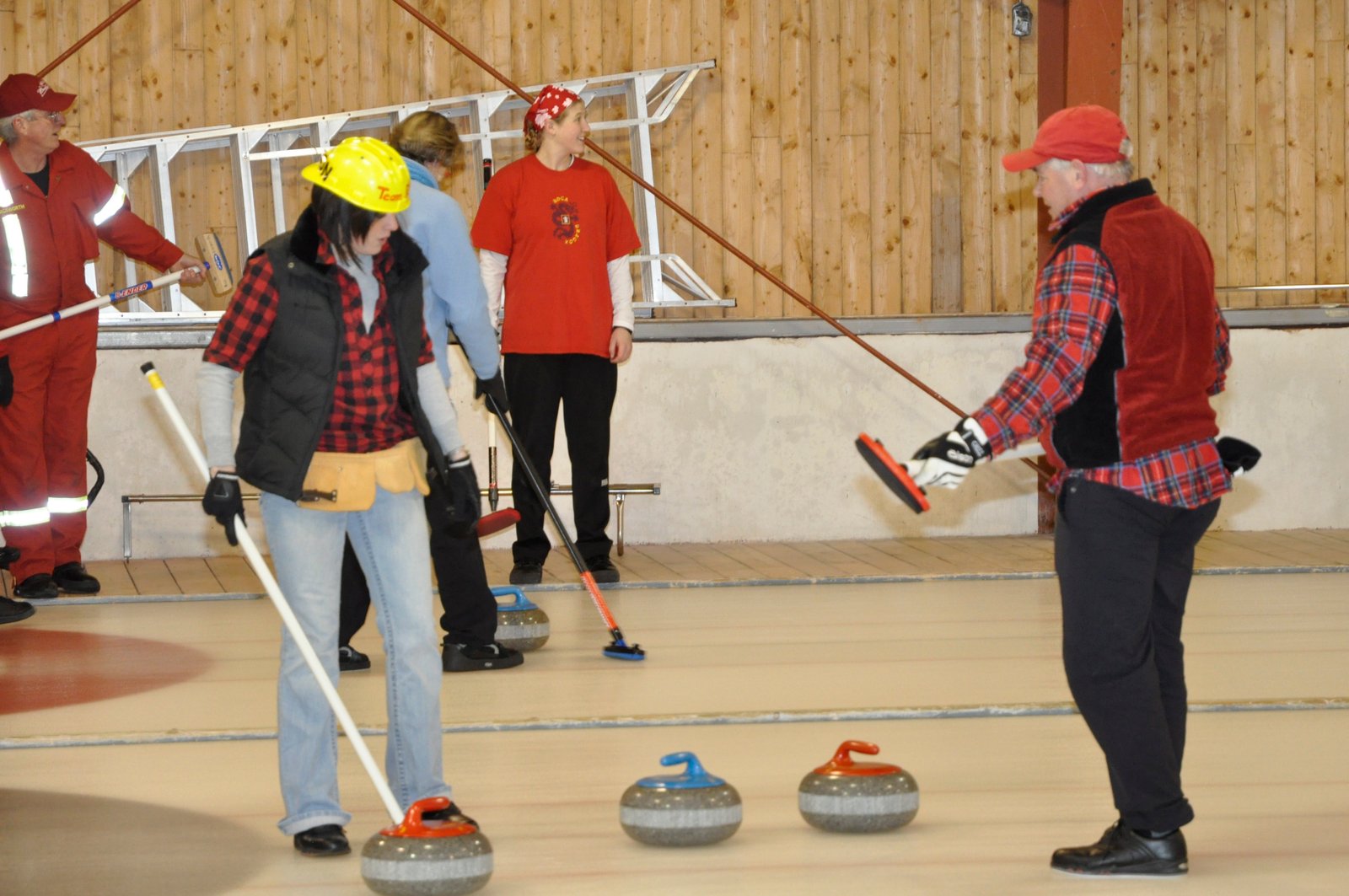 Red rules as Countryview Closing Spiel wraps up Cornwall Curling Season
April 11th, 2010
The red teams continued to be red hot on Saturday, winning the Countryview Golf Closing Spiel by the widest margin ever – a score of 153 to 118 points over their blue opponents, and gaining control of the prize table. Even the reverse draw for a free membership next year was won by a Red – Tom Dunn!  Blue has a whole year to rebuild, though, and will be looking for revenge next year!
Off the ice, Saturday activities included some serious foosball play,  burgers on the barbie with potato salad, and some great live music in the afternoon by Nathan Condon and Mike Johnston. Following the last round of curling, a fantastic meal consisting of roast pork loin, home made baked beans, baked potatoes with all the trimmings, and dessert of ice cream and cookies was enjoyed by everyone.
Check out this slideshow for day two photos:
Following the meal, and the trip to the prize table for the Reds (and some door prizes, too), organizers Barb and Ray Biagé thanked everyone who participated, and everyone who helped out at the event, along with our great sponsors Carl and Karen Currie from Countryview Golf course. Don't forget, Countryview opened for the season yesterday, so head on out to route 19 in Fairview, and check out their Masters specials this weekend, with 25 to 50 percent off all in-stock merchandise. Call 675-2800 or email proshop@countryviewgolf.com to reserve a tee-time, and visit CountryviewGolf.com to check out their great annual membership rates, starting at only $260 for one specified weekday (Mon-Fri) , plus taxes and applicable PEIGA fees.
Barb  also mentioned the upcoming benefit for Paul Horne on the 30th at the North Shore Community Centre. Scott Jeffrey (PEIDJ.com), who played the music for us on Friday night, is donating his services for that event, and Barb passed the hat to help him with expense money. Paul is out of the hospital, and doing well, following his heart incident at the Club in January, and is expected to eventually recover fully. However, expenses are being incurred for home adaptations, and out-of-province travel. If you are interested in donating an item for the Silent Auction or have any questions, please contact Steve or Teresa Horne @ 892-8896 or horne@eastlink.ca.  Barb urged everyone to attend the benefit, and "bring your cheque book"!
President John DeLuca wrapped up the event by thanking Barb and Ray and all their assistants, along with the attendees, sponsors, club staff, and entertainers for the great event, and thanked everyone for a very successful season at the Club. He also mentioned that Club renovations are still happening, and that the Town of Cornwall is supposed to have concept drawings available in the next week or so.
He also talked about the need for upwards of 200 volunteers for The Dominion National Curling Championship, happening Nov. 23-28 at the Charlottetown and Cornwall clubs, and made volunteer application forms available. Online volunteer registration is not working yet (I'll let you know when they have it working), but you can also contact Kate Arkilander at The Dominion, email karkilander@thedominion.ca if you can help out in any way.
Thanks again for a great event and a great season! The juniors take to the ice today for their closing skating and curling event, with the ice plant shutting down later today. See you all at the Paul Horne Benefit on the 30th, the Awards Night and Annual General Meeting in early May (more on this later), and the annual 9-hole best-ball golf tournament at Countryview on June 19th (get in touch with Carl at Countryview, or Bob Fowler, to sign up).
Reds hot, hot, hot as Countryview Closing Spiel goes tropical!
April 10th, 2010
It was a great day to be Red, following Friday play at the Cornwall Curling Club's Countryview Golf Closing Bonspiel. The opening draw saw two sheets in play, with Red winning one game and losing the other, to end up in a dead heat. It was also close after the second draw, but, by the end of the third round, Red had a firm hold on the lead, with a 49-41 score. Blue isn't ready to concede yet, however, and with today's draws getting underway at 9 am, with the last draw at 4, anything can happen (and usually does!).
Last night's activities took on a tropical theme, with the club decorated to the 9's with palm trees, hula girls, sombreros, a swimming pool, and just about every tropical cliché one could dream up! An authentic tropical meal of tacos and ice cream was served, and Scott Jeffrey of Moovin' and Groovin' (peidj.com)kept everybody dancing to the tropical tunes well into the night. A nice jacket from Countryview Golf(who, by the way, are opening today) and a bag big enough to hold a person were among the door prizes given out at the dance. Enough talking -- check out this slide show and see for yourself what fun we can have!

There's some live music in store on Saturday afternoon, and the barbecue will see action at noon as the fun and food continues on Saturday. Things will wind up with a dinner and awards ceremony with prizes for the winning colour. See you at the Club!
April 8th, 2010
Cornwall Curling Club
Friday, April 9th
6:00PM
Ice 1
V Chowan, B MacWilliams, D Sigsworth, D Graham vs J Deluca, T MacDonald, D MacRae, B Arsenault
Ice 2
B Fowler, J Farquharson, M Stewart, P Ling vs R Rolfe, M Beck, M Ellis, D MacEwen
7:30 PM
Ice 1
K Blanchard, J Ballem, T Wiseman, J Anderson vs L Davies, J Hanus, K Currie, S Boutillier
Ice 2
A Davies, H LaPalme, D Delaney, G Younker vs  T Dunn, F Weiler, R Shreenan, K Kneabone
Ice 3
D Rhodenhizer, A Acorn, J Clements, D MacKinnon vs  G Matthews, V Acorn, S Jeffrey, G Clarke
Ice 4
P Richard, L Gotell, R Baillie, T Turnbull vs  G Groves, B Brown, D Kneabone, V Taylor
9:00PM
Ice 2
P Neima, J Soltermann, V Cotton, K Affleck vs  R Sweetapple, C Nicholson, H Verhulp, L Matthews
Ice 3
R Young, A McCormick, M Hanus, M Matthews  vs   M MacDonald, H Kamphuis, C Soltermann,
K McCaffrey
Ice 4
L Callbeck, G Peters, G Dykerman, K Pippy vs  M Sanderson, M Perry, G Canfield, S Williamson
April 7th, 2010
Here are the team allocations for the Countryview Golf Closing Bonspiel. Draw will follow later.
Also, here is an update on the itinerary
Friday night –  DJ Scotty Jeffrey will be spinning summer tunes, and we are having a taco bar
Saturday – lunch on the barbecue
Live entertainment for the afternoon
Dinner for all and prizes (for the winning color)
Here are the teams:
Blue
A Davies, H LaPalme, D. Delaney, G. Younker
P. Neima, Y Soltermann, V. Cotton, K Affleck
R. Young,  A. McCormick, M Hanus, M Matthews
B. Fowler, J. Farquharson, C Peters, P Ling
L Callbeck, G Peters, G Dykerman, K Pippy
K Blanchard, J Ballem, T Wiseman, J Anderson
P Richard, L Gotell, R Baillie, T Turnbull
V Chowan, B MacWilliams, D Sigsworth, D Graham
D Rhodenhizer, A Acorn, J Clements, D MacKinnon
Red
T Dunn, F Weiler, R Shreenan, K Kneabone
R Sweetapple, C Nicholson, H Verhulp, L Matthews
G Groves, B Brown, D Kneabone, V Taylor
L Davies, J Hanus, K Currie, S Boutillier
G Matthews, V Acorn,  S Jeffrey, G Clarke
M MacDonald, H Kamphius, C Soltermann, K McCaffrey
J Deluca, T MacDonald, D MacRae, B Arsenault
R Rolfe, M Beck, M Ellis, D MacEwen
M Sanderson, M Perry, G Canfield, S Williamson
The 2009 Countryview Golf Club Closing Spiel took place from April 2-4th 2009.
Click here for photos from the event!
| | | | | |
| --- | --- | --- | --- | --- |
| 1   | Geoff Scutt   | Angus Davies   | Steve Montgomery   | Katherine Morrow   |
| 2   | Ray Biagé   | Jack Fairhurst   | Hélène LaPalme   | Spare   |
| 3   | Ernie Stavert   | Gary Crosby   | Eileen Leahey   | Karen Doucette   |
| 4   | Paulette Richard   | Bill Prowse   | Donald Weeks   | Dick MacKinnon   |
| 5   | GordonPeters   | Rick Doiron   | Ronalda Baillee   | Valerie Taylor   |
| 6   | Eric LeBlanc   | Vern Chowan   | Tony Turnbull   | Jean Anderson   |
| 7   | Paul Neima   | Debby Sigsworth   | Vicki Cotton   | Ann Doucette   |
| 8   | Lester Callbeck   | Jim Farquharson   | Bev Richards   | Debbie Rhodenhizer   |
| 9   | Bob Fowler   | Jeff Keefe   | Anne Boswall   | Marjorie Matthews   |
| 10   | Rob Young   | Joerg Soltermann   | Laurie Smythe   | Spare   |