TRURO, N.S. — Kaitlyn Jones and her young Halifax team [which includes Cornwall member Lauren Lenentine at third stone] are through to the Canadian Beef Masters quarterfinals in their own backyard.
The reigning world junior champions, who earned the sponsor's exemption spot for the Pinty's Grand Slam of Curling event, finished round-robin play with a 3-1 record after upsetting Ottawa's Team Rachel Homan 6-5 Friday to advance.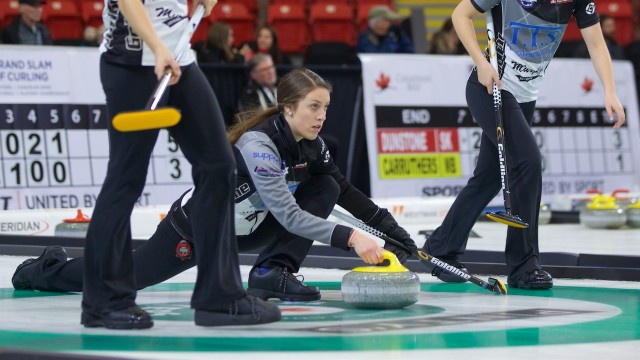 Kaitlyn Jones shoots a stone during the 11th round-robin draw of the Canadian Beef Masters on Oct. 26, 2018, in Truro, N.S. (Anil Mungal)
Jones's team includes cousins Karlee and Lindsey Burgess at second and lead, respectively, who are from the Truro area and are feeding off of the positive vibes from the crowd.
"It's pretty cool," Karlee Burgess said. "We're just super excited to have the hometown crowd here. We're kind of playing off them, they're really loud for us and it's been a lot of fun so far and we're super excited to make the playoffs."
Jones pulled off a nose double takeout to score two in the final frame to lift her team into the playoffs.
"Going into the last shot of the game, I was like let's just keep it close throughout the whole game," Karlee Burgess said. "We knew we had that open shot there and Kaits was a little nervous going into the hack but I trust Kait very much. It was a good shot and I'm proud of her for making that shot for us."
Homan, who has won seven Pinty's Grand Slam of Curling titles, gave up a steal in the second and bounced back into the lead with a deuce in three followed by a steal in four to go up 3-1. Jones replied with a three-ender in five to hold a 4-3 advantage and Homan took two in six to leapfrog back ahead. Jones blanked the seventh to retain the hammer for the dramatic final frame.
Team Homan had already qualified and finished preliminary play at 3-1, too.
---
Canadian Beef Masters: Tickets | Scores | Standings | Schedule | Broadcast Schedule
---
In men's action, American Team John Shuster doubled up on the defending champs Team Brad Gushue of St. John's, N.L., 8-4 to move onto the playoffs. It was the first time Shuster (3-1) had beaten Gushue (2-1) since 2009.
Gushue, who has won 11 GSOC titles, said earlier he's feeling foggy having arrived at the Canadian Beef Masters straight from playing in China.
"Actually, this is the first time I've beaten Brad since 2008, I believe," Team Shuster second Matt Hamilton said. "Jamie Korab was still on his team so it's quite a different squad. It's nice to get a win against those guys. They're such a good team and jet-lagged or not, we'll take it."
The teams traded deuces to start with Shuster drawing for two in the first and Gushue hammering away for his pair of points in the second. Shuster had to draw his last in the third through a port and just rubbed his own guard and spilled through the house to cough up a steal.
The reigning Olympic gold medallist rebounded to count another couple in four and swiped a point of his own in five to extend his lead 5-3. Shuster forced Gushue to a single in six and put the game to bed with a three count in seven.
"We went into this game knowing that they're obviously a really great team and we needed to have a really good draw shot to really give ourselves a chance at a playoff and a win to guarantee ourselves a qualifying," Hamilton said. "We kinda knew that we just had to go out, play loose, play our game and we'd have a good time and things might go our way. It worked out this time."
Toronto's Team John Epping got back on track to qualify for the playoffs brushing aside Sweden's Team Niklas Edin 6-1.
"That was big, we needed that one," Epping said. "I didn't want to be playing tomorrow morning in a tiebreaker. That was one of our best performances of the year. It nice to play well when you need to."
Team Epping stole one to kick things off in the first end and that proved to be the harbinger of the game. Epping reclaimed a 2-1 lead in the third and then rode the steal train swiping a point in the fourth, one more in the fifth plus two in the sixth for handshakes.
"We put a lot of pressure on Nik and his level of difficulty was high out there," Epping said.
Both teams are through to the playoffs at 3-1.
Halifax's Team Jamie Murphy is still in it at 2-2 after crushing Norway's Team Steffen Walstad 9-2 in only five ends. Murphy scored a deuce in one, a four-ender in three and ended things early with a trey in five. Walstad was limited to singles in the even ends and has been eliminated with a 0-3 record.
Team Matt Dunstone of Regina dusted Winnipeg's Team Reid Carruthers 6-1 with both teams hanging around at 2-2 and awaiting the tiebreaker scenario.
The Canadian Beef Masters is the second event and first major of the Pinty's Grand Slam of Curling season with 15 of the top men's teams and 15 of the top women's teams from around the world. Divisions are split into three pools for round-robin play with the top eight overall qualifying for Saturday's quarterfinals. The semifinals and finals are set for Sunday.
Round-robin action continues Friday at 3:30 p.m. AT (2:30 p.m. ET) on Sportsnet and online at Sportsnet NOW (Canada) and Yare(international).
NOTES: Winners take home $30,000 of the $250,000 total purse plus berths to the season-ending Humpty's Champions Cup in April. … Points are also on the line for the Pinty's Cup, which is awarded to the overall season champions following the conclusion of the Players' Championship.