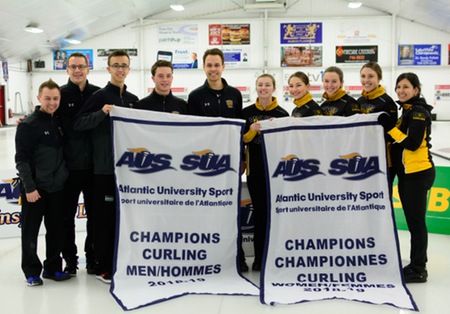 The Dalhousie University team of skip Kaitlyn Jones, third and PEI native Lauren Lenentine, second Karlee Burgess and lead Kristin Clarke went undefeated with a 6-0 win-loss record to win the Atlantic University Sport (AUS) Women's Curling Championship today at the RE/MAX Centre in St. John's NL. They beat Mt. A 10-5 in the final. Summerside PEI's Lauren MacFadyen played third stone on the St. FX team, who went 0-5 in the event.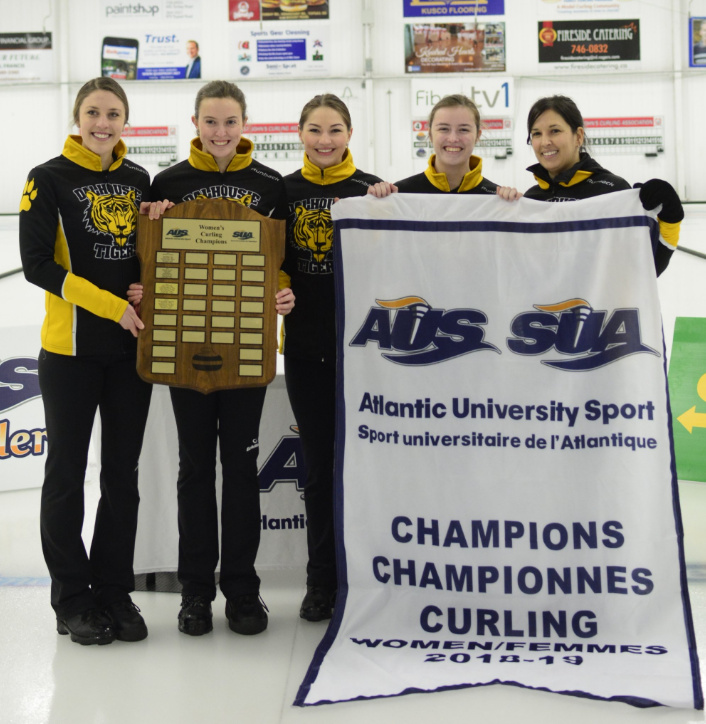 Dalhousie women (Lauren Lenentine is 2nd from the left)
DAL, skipped by Matthew Manuel also went undefeated to win the men's event, with an 8-3 win over Team UNB that went to handshakes after only seven of the scheduled 10 ends. Summerside's Alex Gallant played lead on the UNB team, skipped by Jack Smeltzer.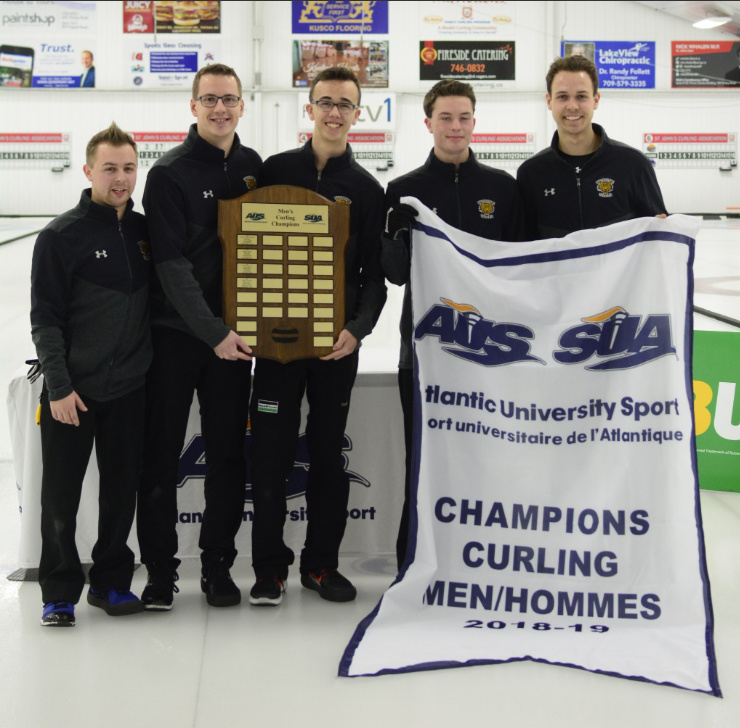 Dalhousie Men
UPEI did not send a team this year.
News Release:
Dalhousie Tigers claim AUS women's and men's curling championship banners
(St. John's, N.L.) The Dalhousie Tigers will head back to Halifax with a pair of AUS Curling Championship banners, after their women and men's curling teams both won their finals match on Sunday morning at the RE/MAX Centre St. John's Curling Club.
The Tigers men's team was the first to claim their championship banner after defeating the UNB Reds 8-3 in seven ends. Dalhousie finishes the tournament with a 5-0 record and will now represent the AUS at the U SPORTS national championships next month in Fredericton, N.B. Members of the winning team include – Matthew Manuel (Skip), Owen Purcell, Jeffrey Meagher and Andrew Bauman.
The UNB Reds had already qualified for the national championship as a host, which means the Memorial Sea-Hawks have also qualified, finishing the weekend as the third place team.
The Tigers women's curling team also went undefeated this weekend, finishing with a 6-0 record, after scoring a finals victory over the Mount Allison Mounties 10-5. Members of the winning team include Kaitlyn Jones (Skip), Lauren Lenentine, Karlee Burgess and Kristin Clarke. Dalhousie will now represent the AUS at U SPORTS national championships. The Mount Allison Mounties also qualify for finishing second, while UNB will also attend as host.
WOMEN'S RESULTS – Feb. 10, 2019
Draw 8 (FINAL) – 10 a.m.
Dalhousie Tigers 10 – Mount Allison Mounties 5 (10 Ends)
MEN'S RESULTS – Feb. 10, 2019
Draw 8 (FINAL) – 10 a.m.
Dalhousie Tigers 8 – UNB Reds 3 (7 Ends)
Final Round Robin Standings
Women
Dalhousie Tigers: 5-0
UNB Reds: 4–1
Memorial Sea-Hawks: 2–3
Mount Allison Mounties: 2–3
Saint Mary's Huskies: 1-4
StFX X-Women: 0-5
Men
Dalhousie Tigers: 4-0
Saint Mary's Huskies: 2–2
Memorial Sea-Hawks: 2–2
UNB Reds: 2-2
StFX X-Men: 0-4

Source: Memorial Sea-Hawks Athletics Communications