The 2019 U16 Championships, with three boy's and five girl's teams taking part, will be contested at the Silver Fox Curling Club in Summerside from February 22-24. There will be new champions this year. Last year's champions Lauren Ferguson and Mitchell Schut from Cornwall are competing in the Canada Games in Alberta.
The three boy's teams will play a double round robin, while the five girl's rinks will square off in a single round robin, with the top two boy's teams advancing to their championship final, while the second and third place girl's teams will play a semi-final with the winning team advancing to the championship game against the first place rink.
Draw Chart
(Boy's Double, Girl's Single Round Robin)
Boy's games are in green.
Date
Time
Draw
Ice 2
Ice 3
Ice 4
Ice 5
Friday
Feb. 22
2 pm
1
Snow-MacMillan
MacLean-Lenentine
Carver-Jack
6 pm
2
Jack-MacLean
Snow-Shaw
Carver-Rochford
Sat.
Feb. 23
10 am
3
Carver-Lenentine
Jack-Rochford
MacMillan-Shaw
2 pm
4
Carver-Maclean
Lenentine-Rochford
Snow-MacMillan
6 pm
5
MacLean-Rochford
Snow-Shaw
Jack-Lenentine
Sun.
Feb. 24
10 am
6
MacMillan-Shaw
WA
(Girl's Semi – 2nd vs. 3rd)
2 pm
7
MA
(Boy's Final – 1st vs. 2nd
WB
(Girl's Final – 1st vs. winner semi)
Rankings: First by win/loss, then head to head between tied teams, and finally cumulative last stone draw results.
Ch'ship round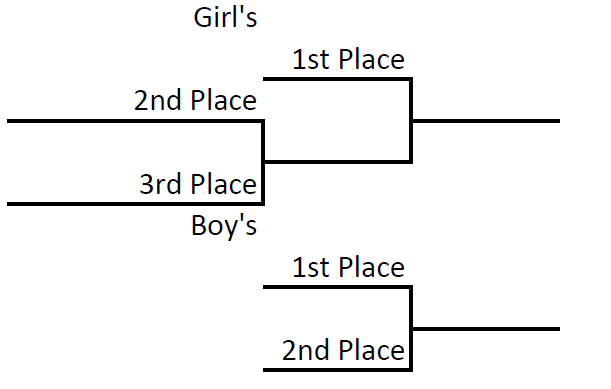 Team Rosters
(click on Team to view player info. Girl's teams are prefixed with "W", Boy's with "M")
| Team | Coach | Affiliation | Location |
| --- | --- | --- | --- |
| M – Team Shaw | Kyle MacDonald | Montague Curling Club | Montague, PEI |
| M – Team Snow | Shelley MacFadyen | Silver Fox Curling Club | Summerside, PEI |
| M- Team MacMillan | David MacFadyen | Charlottetown Curling Complex | Charlottetown, PEI |
| W – Team Carver | Robert Carver / Tracy Maclean | Montague Curling Club | Montague, PEI |
| W – Team Lenentine | Robbie Lenentine | Cornwall Curling Club | Cornwall, PEI |
| W – Team MacLean | Carl Nicholson | Cornwall Curling Club | Cornwall, PEI |
| W- Team Jack | Aleya Quilty | Cornwall Curling Club | Cornwall, PEI |
| W- Team Rochford | Amanda Colter | Silver Fox Curling Club | Summerside, PEI |