The Curl PEI Provincial Mixed (fours) Curling Championship will take place March 1-4 2019 at the Montague Curling Rink, with eight teams, representing five curling clubs, taking part. The Cornwall Curling Club will be represented by Rachel MacLean and Amy Spence, one half of the junior team skipped by Chase MacMillan, who curls out of the Charlottetown club. MacLean went undefeated on Monday to win the PEI Under 16 Girls Championship.
Rachel MacLean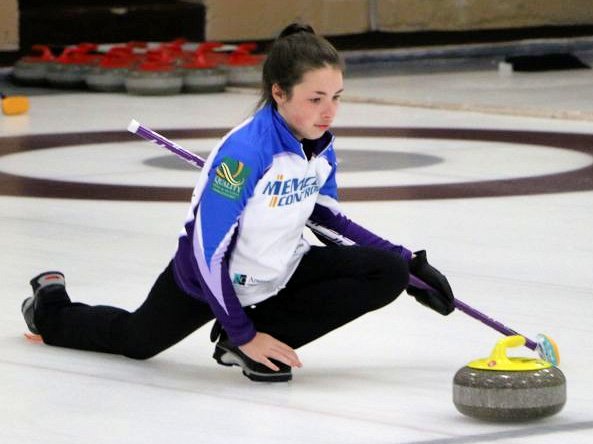 Amy Spence
Both the defending Jamie Newson team from the Silver Fox and Charlottetown curling clubs and last year's Tyler MacKenzie finalist foursome from Charlottetown are back this year. There are three teams from the host club, skipped by George Koke, Matthew MacDonald and Larry Richards, along with the Nick Blanchard rink from Crapaud, and the Corey Miller squad from the Silver Fox.
The eight teams will play a modified triple knockout draw, with the winners of each section advancing to a two-game championship round. Winners from each section drop down to compete in the next section. If a team wins all three draw sections, they will be declared champions, and the championship round will not be played. A team winning two sections will advance to both championship games and take the championship if they win either game, will their opponent would have to win both sections.
The winning rink will advance to the Canadian Mixed, from November 4-9 2019 at Foyer des loisirs et de la culture in Saguenay, Quebec.
Click for previous years' Mixed websites and winners
Draw
(Modified Triple Knockout format with 2 game ch'ship round, if required.)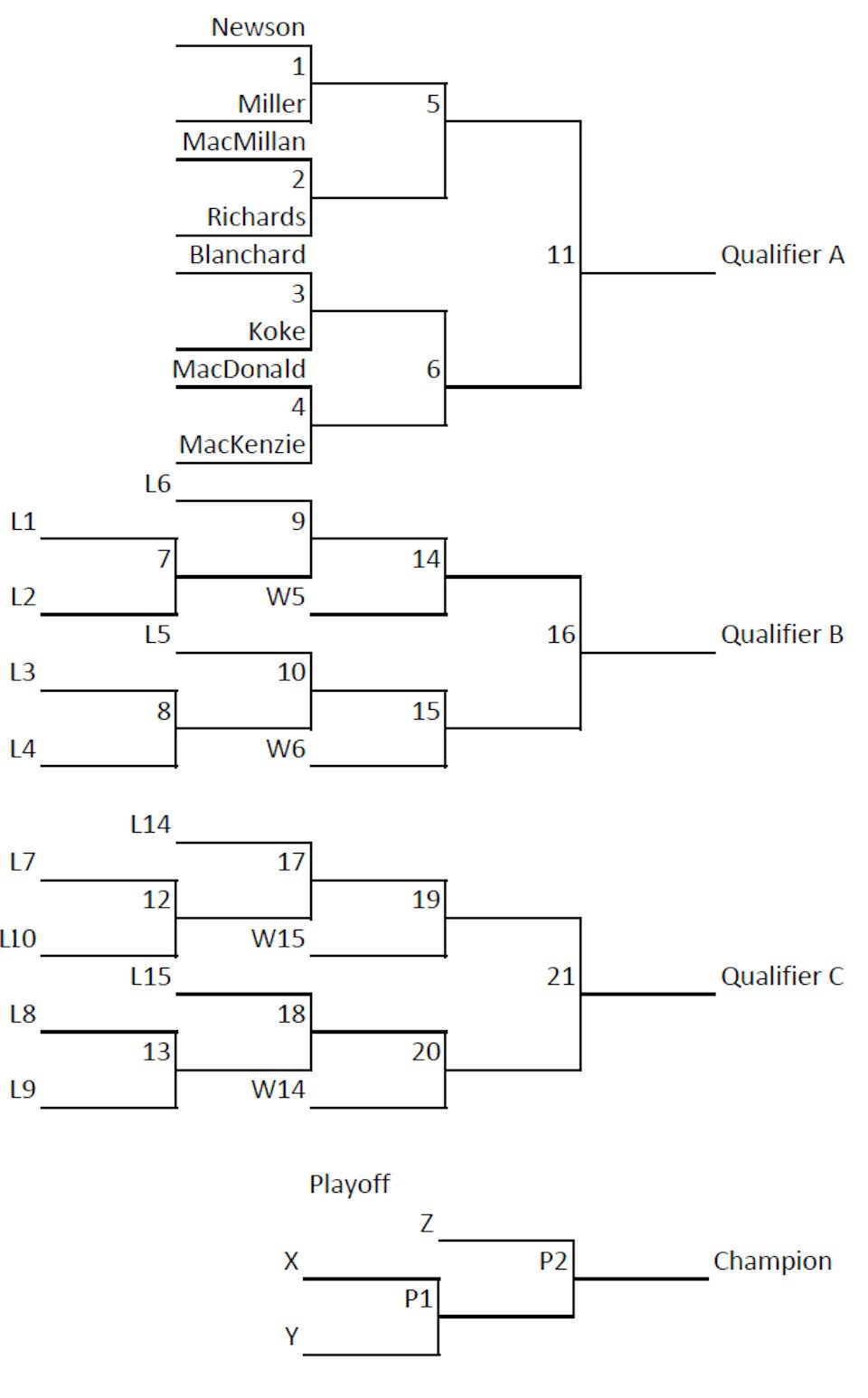 Schedule
Date
Time
Draw
Ice 1
Ice
2
Ice 3
Ice 4
Fri.
01-Mar
2 PM
1
1
2
3
4
6 PM
2
8
6
7
5
Sat.
02-Mar
10 AM
3
10
11
9
2 PM
4
15
13
14
12
6 PM
5
17
16
18
Sun.
03-Mar
10 AM
6
20
19
2 PM
7
21
Mon.
04-Mar
10 AM
8
P1
2 PM
9
P2
Explanation for P1 and P2:
1. If one team wins all three qualifiers: Championship Round is not required.
2. If one team wins two qualifiers. They play in both X and Z (and win the event if they win either game), the other winner plays in Y (and has to win both games).
3. If there are three separate winners: the team that played in the most qualifying games* plays in Z and the other winners play off in X and Y. If there is a tie in the number of qualifying games played, then the team that qualified earliest goes to Z and the other two teams play off in X and Y.
*Qualifying games are in yellow on the schedule.
Team Rosters
(Click on link for players)