The 2020 PEI Seniors Curling Championships, with male and female divisions for curlers age 50 and over, are set for the Cornwall Curling Club, from February 14-18, with four women's and eight men's teams signed up, including the defending champions, the Kim Aylward women's rink from the Silver Fox Curling Club in Summerside and the Phil Gorveatt men's squad from Charlottetown. Six of the 12 teams are from the host club, with three teams from the Silver Fox, two from Charlottetown, and one from Crapaud.
Both the men's and the women's teams will play modified triple knockout draws, with the winner of each section dropping down to compete in the next section. If a team wins all three sections, they will be champion without a playoff; otherwise, the section winners advance to a two-game championship round on Monday.
The event winners will advance to the 2020 Everest Canadian Senior Curling Championships, March 16-22 at the Portage Curling Club in Portage la Prairie, Man.
Live end-by-end results from the PEI Seniors will be available at PEICurling.com/scoreboard
Come on out to the Club to watch some great championship curling action, and cheer on our SIX Cornwall teams!
Draw Tree
(modified triple knockout with two-game qualifier round, unless a team wins all three section qualifier games)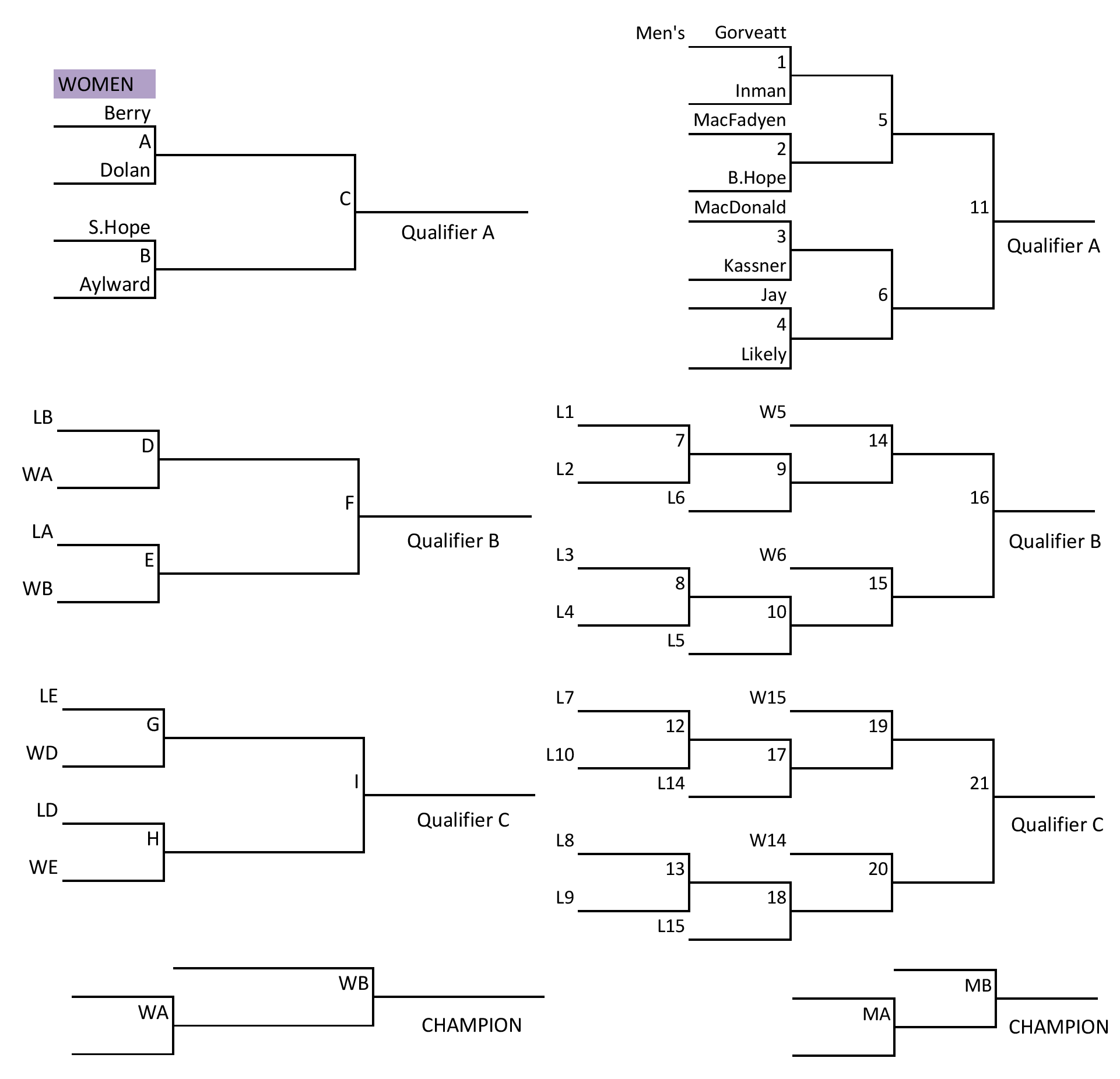 Schedule
Men's games have light green background
Women's games have plum background
Qualifier games have game number highlighted in yellow
Date
Draw
Time
Ice 1
Ice 2
Ice 3
Ice 4
Fri.
Feb. 14
1
10 am
1
2
3
4
2
2 pm
B
A
3
6 pm
8
6
7
5
Sat.
Feb. 15
4
10 am
9

C

11

5
2 pm
E
10
D
6
6 pm
15
13
12
14
Sun.
Feb. 16
7
10 am
17

16

F

18
8
2 pm
G
H
20
19
Mon.
Feb. 17
9
10 am

21

I

10
2 pm
WA
MA
Tue.
Feb. 18
11
10 am
MB
WB
Modified Triple Knockout Draw Playoff Scenarios
Explanation for MA/WA and MB/WB:
1. One team wins all three qualifiers: Championship Round is not required.
2. One team wins two qualifiers. They play in both MA or WA and MB or WB (and win the event if they win either game). The other section winner plays in MA or WA and has to win to advance to MB or WB.
3. Three separate winners: the team that played in the most qualifying games advances to MB or WB, and the other winners play off in MA or WA. If there is a tie in the number of qualifying games played, then the team that qualified earliest goes to MB or WB and the other two teams play off in MA or WA.
*Qualifying games have yellow game number background on the schedule
Team Rosters
(Number = throwing order, "S" designates Skip)
M-Team B.Hope
Cornwall Curling Club, Cornwall, PE
Bill Hope (4-S), Peter Murdoch (3), David Murphy (2), Dario Zannier (1)
M-Team Gorveatt
Charlottetown Curling Club, Charlottetown, PE
Philip Gorveatt (4-S), Kevin Champion (3), Sean Ledgerwood (2), Mike Dillon (1)
M-Team Inman
Crapaud Community Curling Club, Crapaud, PE
Alan Inman (4-S), Phil McInnis (3), Calvin Smith (2), Frank MacDonald (1)
M-Team Jay
Silver Fox Curling Club, Summerside, PE
Blair Jay (4-S), Dale Cannon (3), Glenn Rogers (2), Alan Montgomery (1)
M -Team Kassner
Charlottetown Curling Club, Charlottetown, PE
David Kassner (4-S), Ensor McNeill (3), Derrick Cameron (2), Bill McGuire (1)
M-Team Likely
Cornwall Curling Club, Cornwall, PE
John Likely (4-S), Mark O'Rourke (3), Alan Brown (2), Blair Weeks (1)
M-Team MacDonald
Cornwall Curling Club, Cornwall, PE
Mark MacDonald (4-S), Garth Cudmore (3), Angus Kennedy (2), Joe Callaghan (1)
M-Team MacFadyen
Silver Fox Curling Club, Summerside, PE
Gordon MacFadyen (4-S), Pat Aylward (3), Jimmy Arsenault (2), Gerald Caissy (1)
W-Team Aylward
Silver Fox Curling Club, Summerside, PE
Kim Aylward (4-S), Shelley MacFadyen (3), Debbie Caissy (2), Donna Whelan (1)
W-Team Berry
Cornwall Curling Club, Cornwall, PE, Butch MacGee (coach)
Shirley Berry (4-S), Janice Murdoch (3), Karen Currie (2), Arleen Harris (1)
W-Team Dolan
Cornwall Curling Club, Cornwall, PE
Kim Dolan (4-S), Susan McInnis (3), Kathy O'Rourke (2), Julie Scales (1)
W-Team Hope
Cornwall Curling Club, Cornwall, PE, Bill Hope (coach)
Sandy Hope (4-S), Nancy MacFadyen (3), Karen Hardy (2), Debbie Rhodenhizer (1)