S'side's Cruz Pineau rink wins Wendy's U16 League at Cornwall
The eight-team Wendy's Under 16 Developmental League wrapped up a successful season this morning at the Cornwall Curling Club, with the Cruz Pineau rink from the Silver Fox in Summerside finishing in first place with 82 points, just beating out Cornwall's Emily Sanderson team, with 81.5. The Mitchell Schut foursome from Cornwall was third with 77 points, while the Lauren Ferguson squad from Crapaud, Cornwall and Charlottetown finished fourth overall, with 66.5 points.
Team Cruz Pineau – 1st place
Emily Sanderson rink with coach Edgar Coffin- 2nd place (file picture from U18 Ch'ships)
Team Mitchell Schut – 3rd place (file photo)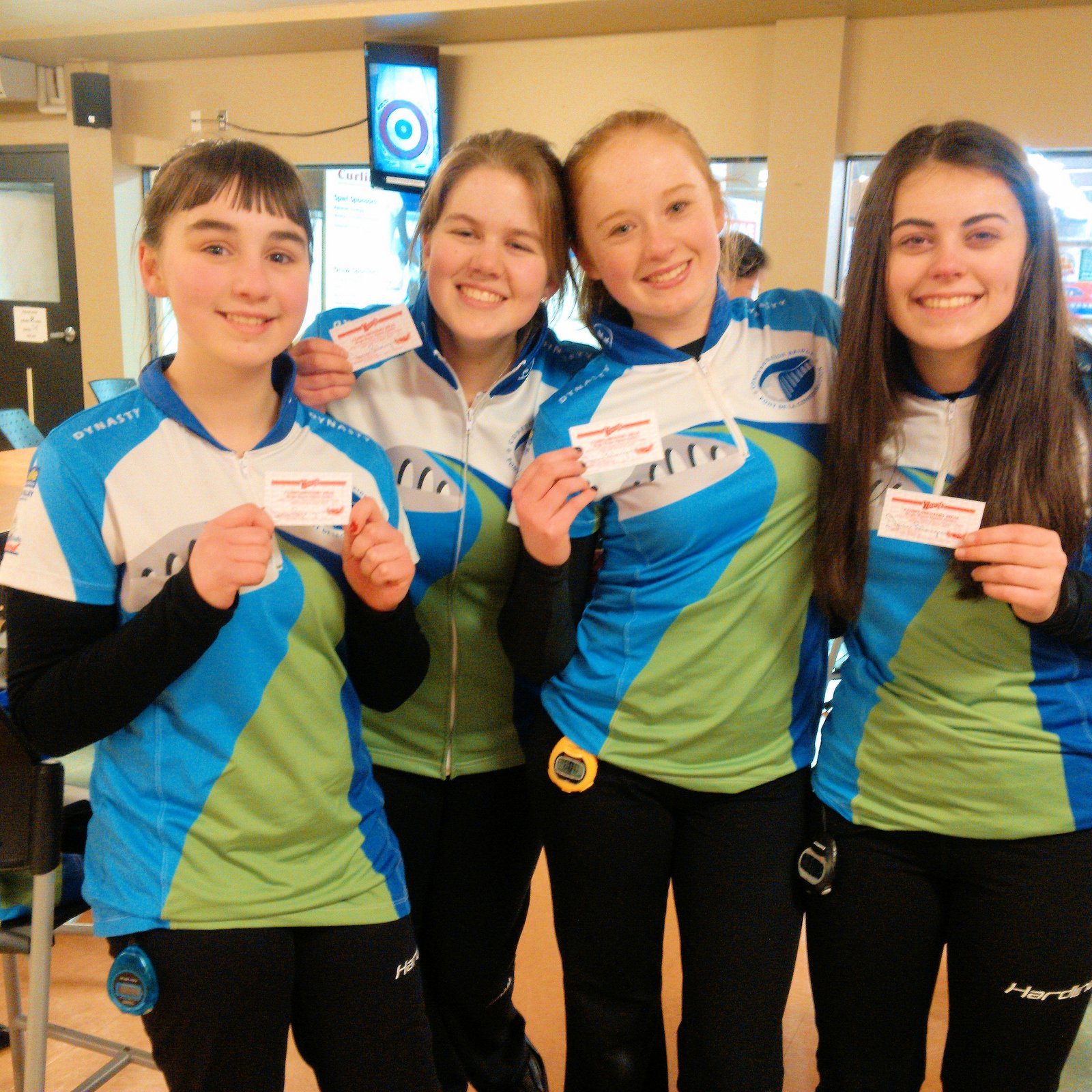 Team Lauren Ferguson
All four winning teams received Wendy's Single Bacon Deluxe Combo meals from D.P. Murphy Inc.
Here is the final version of the Wendy's Junior Development League Saturday morning draw.
Junior Development League Cornwall Curling Club
Starting Oct 28/17, Draw time: 9:30 am
Draw
Date
ICE 1
ICE 2
ICE 3
ICE 4
# 1
Oct 28
Jack vs Pineau
O'Grady vs Schut

Gallant vs Sanderson

Howatt vs Ferguson
# 2
Nov 4
O'Grady vs Sanderson
Jack vs Ferguson

Howatt vs Pineau

Gallant vs Schut

# 3
Dec 16
Gallant vs Howatt
Pineau vs Sanderson
Ferguson vs Schut
Jack vs O'Grady
# 4
Dec 23
Sanderson vs Schut
Howatt vs Jack

Gallant vs O'Grady

Ferguson vs Pineau

# 5
Jan 13
Gallant vs Jack

Schut vs Pineau

Sanderson vs Ferguson
O'Grady vs Howatt
# 6
Jan 27
Schut vs Howatt
Gallant vs Ferguson

Pineau vs O'Grady

Pineau vs Schut

Sanderson vs Jack
# 7

Feb 10

Ferguson/O'Grady (Mar 10)

Sanderson/Howatt (Mar 10)

Schut/Jack (Mar 10)

Gallant vs Pineau (Played)

O'Grady/Gallant (Mar 10)

# 8

Feb 17

Sanderson vs Gallant (Mar 10)

O'Grady vs Pineau (Mar 10)

Ferguson vs Pineau (Mar 10)

Schut vs Gallant (Mar 10)

.
# 9
Mar 10
Sanderson vs Gallant (9:30)

O'Grady vs Pineau (11:00)

Ferguson vs O'Grady (9:30)

Schut vs Gallant (11:00)

Schut vs Jack (9:30)

O'Grady vs Gallant (1:00)

Sanderson vs Howatt (11:00)

Ferguson vs Pineau (1:00)

# 10

Mar 24

Shut vs Gallant (Feb 17)

Howatt vs Pineau (Played)

Schut vs Pineau (Played)
NOTES: Changes to schedule makeup games as at Feb 6, 2018:
Storm/alternate ice time: Feb 10 & 17: Cancelled; Mar 10: Scheduling all 8 makeup games, Mar 24 (Not Available)
Teams are responsible for makeup games. These games could be played at another place and time that is mutually acceptable. If played other than scheduled here, please ensure the scores are tracked and reported to Club League Coordinator or Manager. Sunday afternoons might be available at the Cornwall Club and ice time is to be booked through Manager.
Team Rosters:
| | | | | | |
| --- | --- | --- | --- | --- | --- |
| No | Skip | Mate | Second | Lead | Coach |
| 1 | Emily Sanderson | Emma Coffin | Kaylee Stewart | Anna Maria MacDonald | Edgar Coffin |
| 2 | Sydney Howatt | Sierra Clyke | Meghan Sherren | Madelyn Cantwell | AJ Campbell |
| 3 | Mitchell Schut | Nick Johnston | Liam Kelly | Colin MacKenzie | Bill Hope/Lori Robinson |
| 4 | Clara Jack | Beth Walsh | Aurora Ulvstal | Darrah MacLeod | Aleya Quilty |
| 5 | Lauren Ferguson | Katie Shaw | Alexis Burris | Lexie Murray | David Murphy |
| 6 | Bailey O'Grady | Katelyn Burgoyne | Meaghan Perry | Amy Spence | TBD |
| 7 | Cruz Pineau | Brock Rochford | Noah Gallant | Brayden Snow | Shelley MacFadyen/Eric Pidgeon |
| 8 | Shianne Gallant | Mallory Rochford | Madison Profit | Madison Adams | Shelley MacFadyen |